October 1, 2018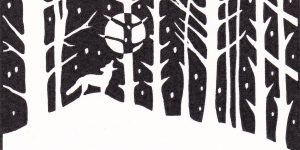 October 2nd 2018
Join artist Louise Crosby for our October Printmaker's Toolkit Session, which focuses on her recent work using solar plate relief printmaking to illustrate her poems. The session coincides with National Poetry Day on 4th October. Louise's work centres around illustrating poetry, and began by using small excerpts of poems to inspire prints. In a current project called UOIEA:AEIOU she is producing 5 poems each only containing a single vowel, each printed as a comic using a different printmaking technique. The first – Oslo Moon – uses Solar plates as relief prints. In this session Louise will talk about her practice, and give a brief demonstration of producing a Solar Relief plate – from preparing an image from a photograph to exposing and developing the Solar Plate. She will also touch upon preparing files for Riso printers.
After completing an MA in Digital Image and Media Louise's work quickly developed into illustrating whole poems as comics in a project called Seeing Poetry: Poetry in Words and Comics. This used poems by Clare Shaw, and they gained Arts Council funding to produce two mini books each illustrating a whole poem as a comic. The drawings were made using Adobe Illustrator and printed commercially in full colour. Louise now writes much of her own poetry as comics. These are Risograph printed to make books that explore the boundary between zines and artist books. For recent work she has returned to her roots in printmaking to further explore how digitality can be introduced into printmaking, and how printmaking can be brought into comics.
These 1 hour morning sessions focus on technique, practice and making, and comprise of practical demonstrations and talks led by practicing artists and printmakers. The sessions are intended to encourage, inspire, and generate ideas and conversation about printmaking, so don't be afraid to ask questions! Both members and non-members are welcome to attend. If you are not a member, or indeed a printmaker, they can act as taster sessions to show you what printmaking is all about. If you are a member or practicing printmaker, the sessions can offer valuable hints and tips to help further your printmaking practice, or introduce you to a new technique.