February 15, 2017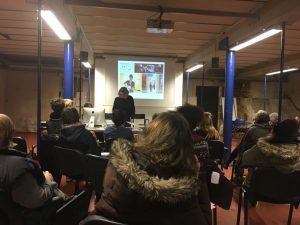 Lou went to the 45e Festival de la Bande Dessinée d'Angoulême – with Laydeez do Comics 27th-29th January.
On Saturday I attended the Study Day: Questioning Sexism in Comics: Practice and Research: France; Finland; UK; USA at École européenne supérieure de l'image (ÉESI)

Then early evening  I took part in LAYDEEZ DO COMICS – ANGOULÊME where there were presentations from various feminist creators from France, Finland, UK, USA etc. We also had a table at the main festival in the alternative tent.
Presentations from: Charlotte Bailey, Rachael Ball, Megan Byrd, Hannah Chapman, Louise Crosby, Wallis Eates, Taina Hakala, Hanna-Pirita Lehkonen, Sarah Lightman, Pen Mendonça, Apila Pepita Miettinen, Johanna Rojola, Nicola Streeten, Emmi Valve

In my talk I gave a brief history of Seeing Poetry and read a couple of comics including Cupboard. I also read
the Hebden Bridge Spotters Guide Part 1 from The Hebden Bridge Annual. It was was very well received 🙂